It's Friday it's Friday gotta get down on Fridaaaaaayyyy.
Hahaha sorry, I had to. You know deep down you kinda like it!
I'm gonna link up with Miss Angie from
My So-Called Chaos
to do my monthly goals. I know I didn't complete most of them but that's just me! Sorry suckas. Been a long month.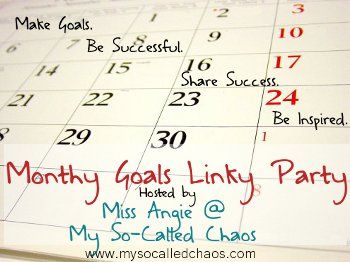 June Recap!
- Be more active.
fail.

No excuses can make this better.
- Drink more water.
fail.
Ok, half and half. But it's not enough for me to consider it complete.
- Get with my sister for her graduation gift.
failed.
But I did spend a lot of time
with her!!
- Save money other than for my car payment.
fail.
I quit my job! No money to
save besides the money I already had.
- Go through tea's toys.
fail.
yeah. go me.
See kids, this is why I didn't want to post it. Oh well!
July's Goals
Find a J-O-B. I should have already had one by like two tuesdays ago. Well at least
in my head that's how it feels.
Read 2 books.
Stay up to date on my school work. I'm almost done. I can do this.
And goals from the month before that I'm going to accomplish
- be more active
- go through tea's toys in the living room. (The child has more toys in her room but there are plenty here.)
- drink more water. (I'm already doing good on that one!)
That's all for this month. I'm really going to work on the job. Yep. I need one super bad. That's my main goal.