I've noticed this little blog growing and I want to say hey to all the new faces! I know that most of you have come from the fabulous Mandy's giveaway and I know how much you have to contemplate following a blogger to win a giveaway. I know that I don't necessarily like doing it, so I hope you stay and get to know me! Give me a teensy weensy chance. =)
This weekend I worked. I took Sunday off though. I spent it with mi familia. Well, mainly the boy and the mini. We had a family movie day. And it was wonderful. We watched 50 First Dates, Rock of Ages, and my very very favorite, Titanic. Yeah, it's not a kid's movie but he picked it out. Boyfriend had never seen it and surprised me by downloading it. I ask if we can watch 50 First Dates, look down at my phone and look up because I heard that music...the Titanic music. It's so familiar because well, I've watched it A LOT. It was such a sweet surprise and it made me feel super good. I love surprises! Okay, I know I just got gushy on you and I'm kinda sorry. I just love that man!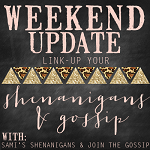 Titanic got me started thinking about all my famous
husbands
crushes. Because hello, have you seen Leo?? HAWTTTT. So today I'm going to go all fan girl and show you my favorite Hollywood boys!
Luke
He fires my panties up Phil. Mmmhhhmmm. Love me some Luke shaking it for me!
Charlie
I have a thing for bad boys and he is the ultimate bad boy. At least he plays one. Plus look at that stomach. Drool.
Johnny


I think that he is so sexy. In so many ways. And he's sort of a bad boy too!
Ryan
Hello smoldering eyes. Hello handsome. He can give me that piercing look all night if he wants.

Leo


My first boy crush. Love him. After all, he inspired this post!
Alexander
Aka my Christian Grey. Yes, if 50 Shades ever becomes a movie he's my pick. So sexy.
Yep, I'm on a first name basis with all of them. Who's your current sexy man?
p.s. I don't know what happened with the layout of this post but every time I picked a picture of Leo everything would get screwy. I know who the blog's favorite sexy man is! Sorry for the messed up part.