Time for some letters for the week!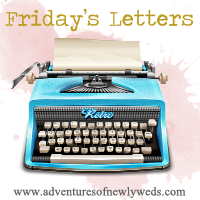 Dear Teagan,
I miss you already. So glad I get to see you for a couple hours on Saturday. For more info
see my last post
. I love you little person.
Dear Wife,
My birthday party for you is Saturday and I'm super fucking pumped! Love your face lady.
Dear Workforce,
I know I said I joined you last week....but I got my job at my dream place!!! I work at Olive Garden and I couldn't be more excited. Yay.
Dear Auntie,
I'm so glad that you're home and we went and spent alone time together at the movie theatre. We saw Magic Mike...yes that makes twice for me. So whattttt!
Dear Self,
it will all work out. Somehow. Don't worry so much because your giving yourself heartburn again. Ugh.
Dear Lovely Readers,
I know this isn't my usual sarcastic snarky post. Hope you don't mind. I've got a lot on my mind. Next week I'll be back to normal. =)
That's all for now. Happy weekend kids!