Since I've written about food two days in a row (shows what I really care about in life) I thought that I would link up with
Miss Angie
for my final goals of the year...wow...That's weird to say. 2012 is almost gone and 2013 is almost here. Ahh!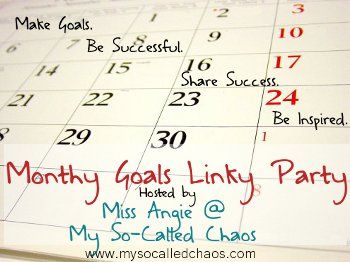 - Buy at least one gift a week for Christmas - I don't think so.
I mean I got a few and I have a lot of ideas. I guess kinda
- Cook at home at least 3 times a week - I did at least twice a week =)
Better than nothing.
- Pay $20 off my credit card every week - Not twenty every week but some. Until Black Friday.
Next time...there will be better research done.
- Find something for the month of December like a Christmas countdown or RAK - fail.
Now looking for something for the 12 days of Christmas that we can do. Not enough planning on my part.
- Keep up with my school work - I don't wanna talk about it. I'm not taking anymore online classes unless I have to. For sure.
- Buy Boyfriend's bday present by November 30 - Didn't happen. Boy buys himself whatever he wants
whenever he wants it. Makes it hard to buy him stuff.
So it wasn't great but it wasn't terrible. I'll take what I can get.


- Get Christmas cards sent out by Dec 15
- Enjoy this season
- Start planning resolutions. Make sensible ones this time
That's it. With it being December and the Holidays...I just want to enjoy it. No stress. Ok, that's a lie. The whole season is stressful but I want it to be less stressful. As easy as I can make it for myself and others around me.

Look forward to a post telling you all about the things that 2013 will bring us! I can't wait to do that.
Have a great December!