We made it to Friday. Woot woot. I work all weekend but managed to give my Saturday morning shift away so I can go to my niece's second birthday! I might find a way to sneak some booze in. That would make me super ultra mega fun and work would be so much better =). Let's high five some shit.
1. Last weekend I had Saturday off and we had a family day. It was nice. We went to eat hibachi, where my crazy kid tried sushi. I was proud of her. That's like I don't even know. Just major! After that we went to the movie theater and played in the arcade for a while. Then we saw Monsters University. I don't really know if it was good because Teagan can't sit still in a movie theater STILL. How long does it take??? After that we went to my Wife's bbq she was hosting to thank everybody for supporting her while she was dealing with cancer. Girl doesn't cook but she did good. I was proud ;). And then it was time for some fireworks! Busy Saturday for sure.
2. I went on a shopping spree yesterday and bought way to much shit but it was so much fun. A girl deserves to go shopping every now and then. And shop we did. I ended up with 3 new pairs of shoes, 3 new dresses, some hair stuffs, and panties. Panty shopping is fun. The only womp womp of the day was that I couldn't find anything on the sale racks. I can always find good sales with cute clothes but not yesterday. Everything I wanted was expensive! All I wanted were maxi dresses and skirts. I was in total fall mode too.
3. I went swimming on Tuesday. And got another sunburn. And it fucking sucks. But Teagan and I had a great time so it was worth it. That's why I took Wednesday off. After a sunburn I just want to sleep and cry. I only go out in the sun every 10 years, I told Blake to enjoy this tan because he won't see me tan for 10 more years.
please ignore how wide my leg looks. It happens when I sit down.
4. Wife and I went to dinner at Olive Garden Wednesday night (yes, even though I work there, it was her birthday) and I had a great drink. Seriously if you're ever at an OG again, try a Strawberry Limoncello Martini. It was great. I got a buzz. A buzz for an expensive ass price though. But it was sooo worth it. And I don't drink sweet sugary drinks but this was good.
5. It's school supply time! I seriously get so excited for this time of year. I can't wait to go to Target and buy a pretty new planner that I won't ever use. And 5254164 notebooks that I don't need. But I can say that they're for Teagan now!
And now...the moment everybody's been waiting for....
Yes, just yes. Now go on, shake ya ass. Just make sure you close the door so your coworkers don't see you getting your freak on. Or don't. Whatever works.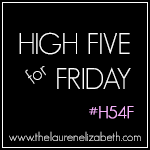 Happy Friday Cupcakes!