Whadup cupcakes! Happy Friday to you. I'm off today and work all weekend. I need that money though. And Sunday morning Manfriend is leaving me for his work trip. I'm
not
freaking out. I've always been the one to go somewhere and it's always been in my car. Not a damn airplane! I know he'll have a good time though.
Anyway...let's high 5 some shit.
1. I made a new friend this week. Tuesday my gma took myself, my wife, teagan, one of my little sisters, and Auntie to build a bear. My aunt and Teagan have an obsession with it. It was the first time I've gone. I made a dog. His name is Cooper. He's a cowboy. Love him!
Cooper and his friends
2. I got a banging swap package from Beth for the PJ Party Swap. Girl can hook it the hell up! I was soooo impressed! More about that next week though. I forgot to take pictures. Ooops.
3. If you follow me on the twatter, then you know that I love the show Street Outlaws. If you don't follow me on twitter you should and now you know that I love that show. Monday was the season finale and unfortunately, a really really cool person on the show lost their lives. It was sad and I took to twitter to share my thoughts. And guess what...my tweet got favorited by my favorite person on the show! I was ecstatic to put it nicely. I was smiling from ear to ear and squealing. It was bad.
4. I'm going to be completely alone for a couple days starting on Sunday. It's been 5 days since I've been alone. Blake is going to be out of town and Teagan is at her dad's house for the week. I'm excited but not excited. We'll see how it goes.
5. It's tax free weekend! I'm gonna get some shopping done today. Does anybody know if this applies online too??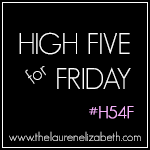 And of course...we're gonna #backthatazzup.
Unfortunatley on Wednesday night Tone the Cheif Rocca or B-double O-T-Y the one hit wonder man got voted off the show. I was super sad. All he wanted was a one hit wonder. I think he wrote and sang a perfect song. So twerk it while you're listening to this. Tell me how you think it will be go as a one hit wonder.