So one of my mostest favoritest bloggers in the whole entire blog universe, Stephanie, announced that she was doing a link up, I know I had to join.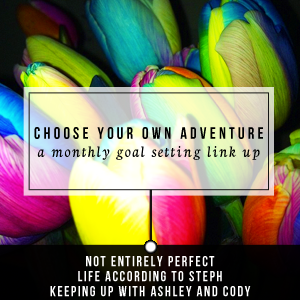 The only thing was, that this month's theme is fitness -.- . If you know me, I'm not much of a fitness person. But I knew I needed to start doing something. After all, it's only 13 months until my wedding and I need to start getting in shape. I honestly had no clue what I would do.
Blake bought us an elliptical and I figured that I could actually use it. Because neither of us have touched it except when we were first excited that he bought it. That was about a month ago. S
So in the meantime I've been scratching my brain, trying to figure out what in the hell I'm gonna do. And then I found this on facebook this morning.
My friend has a fitbit and this is what her fb fitbit group is doing. So I decided that I'm gonna do it. I may not have a fitbit (but I really want one), but I can do these things without one. I'm gonna have to research what in the hell some things are, like a reverse lunge, and a push up to side arm balance, but whatever. I can figure it out!
Here's to fitness. I might be dead in 30 days. We'll see.