Well, I showed up for class twice this week. SURPRISE!! I've had a couple of thing I wanted to talk about but it's Friday and they aren't for Fridays. So, you get my favorite fall tv shows. This could be long because I love me some tv.
I'm linking up with Melissa for her October Blogging Challenge.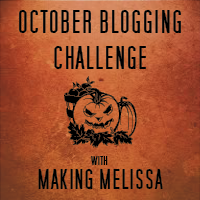 The New Kids
Gotham
I wasn't sure how this show was going to be. I like Batman and all but I didn't really think it was about Batman. Just about Gotham. Well, it's awesome as hell. I watched the first episode last night and I really enjoyed it. Plus there's some eye candy in it as well. You might remember him from the O.C. Seriously though, it's hard not to think of him as Ryan. Somethings you never grow out of. A little fun fact for you, one of my most favorite things about any Batman movie, is Alfred. I love Alfred. I don't know why, I just do. And he's in Gotham too. =)
Bad Judge
Ok, so the first episode wasn't on until last night, but I still loved it. We all wish that as adults we could act like hot messes and still get our job done. We can't. But Judge Rebecca still manages to get it to work for her. Critics are saying this show sucks and it won't be on much longer. We'll see. Until then, I'll enjoy living vicariously through her.
The Tried and True
Sons of Anarchy
We're in the last season of this motorcycle club drama. And Jax is gonna find out who killed his wife. Even if he has to kill the whole town of Charming. Sorry for the spoiler. I forget that not everybody is watching live. The first three episodes of the season we're slow, but this weeks lit the whole season on fire. Mr. Sutter, the show's writer, finally brought back some of the humor too. I'll probably go jump off a bridge when the show is over. I won't know what to do without my trusty MC every week. Then there's Gemma. I'm not gonna lie, I was always Team Gemma. I couldn't stand Tara. But now the woman has lost her ever loving mind and is really hard to like.
Parenthood
Again, another show in it's last season. Which makes me sad. I love shows about families. And this one makes me cry every week. What's not to love? The family problems seem like actual problems people would have. If you need a good cry, and then something to make you feel better, this is the show for you.
That's all I got today. What are your favorite fall shows? Anything you think I should be watching?