It's February. Only 7 days until my birthday!!! (yes, valentine's day) boooooo. Anyway...It's time for some goals this month.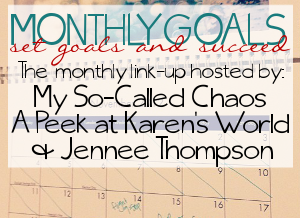 A January recap is mandatory. Let's see here...
- save some money. hahaha. That's such a vague goal that I laugh at it now. And yeah, I saved some, but I spent a lot more than I wanted to.
- exercise twice a week. I did great when I made that post. Exercised twice that week. And then I flunked out. Ooopss.
- start car shopping. Mhm...I did a whole one time. It didn't really leave me all warm and fuzzy.
- keep up on school work. Eh, I'm doing decent. I could get my assignments done early but then what would I have to do at the last minute?
It's a semi decent month. I'm not too worried about it.
I just love this picture because it's all scattered about just like I feel.
For February I have one goal. That's it. Just one. Because for one, it's my birthday month and I do what I want and two because I'm seemingly overwhelmed in life right now so let's not make it worse.
The only goal is to work out 3 times a week all month long. Yep. I can do this.
Just do it.