Yep...November already. How freaking exciting is that?!? It means we're close to Turkey Day and to Black Friday! MMMMMMHHHHHMMMM. My favorite shopping day of them all. Yeah, I'm crazy. Ok, not that crazy but I do really like it. I'm all about cheap tv seasons, dvds, housewares, and toys for the little person.
Anyway...I got off on a little tangent. I'm gonna do my goals for the month. Ya know... things I should do but sure as hell don't. Yeah..."goals" are what we say for things I should accomplish but I won't. lol. It's not a to-do list, but a should do list. Is it sad I see it that way? Maybe a little. And I kiddddd! I really try and get them done.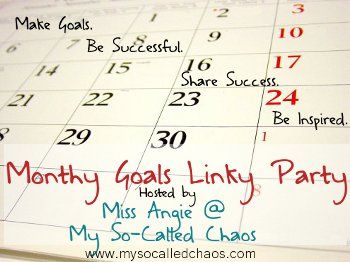 Recap of October Goals
- Clean out my car - DONE! It was bad.
ignore my gross trashcan. It's the outside one!
- make the dr's appointments. - Half. I made one and it was a great decision. I'm not ready to talk about it
but this will come up eventually.
- get at least 3 people's Christmas gifts bought - Fail. I totally have ideas but I didn't buy anything =(
- be active - Fail. Yep....hmmph but like I said in
this post
I downloaded the couch to 5-k app and I'm going to start it!
- get eating out under control - Half. I have cooked a lot more than I usually do but I need to get better at it. With the spending freeze in tow I guess I don't have a choice. ;)
- Take Teag to a pumpkin patch - DONE.
This post
talks all about it. So much fun!
- Go to at least one spook house. Nope =( so sad about it. Boyfriend promised next year we would. We better
- Keep reading. - Fail. I have stopped my book because I couldn't get into it. But I've been dying to read lately. Maybe I'll get a book about Christmas or something.
- Buy myself something I want. I gave this one up because I was off for two weekends in a row. Took a toll on the bank account.
- Send wedding gifts. - Fail. I completely forgot :-/ Terrible I know.
- Start using my planner. - Fail. Oops.
November Goals
- Buy at least one gift a week for Christmas.
- Cook at home 3 times a week.
- Pay $20 off my credit card every week.
- Keep up with my school work.
- Buy boyfriend's birthday present by November 30.